Uasin Gishu County is one of the richest counties in terms of healthcare. Under the stewardship of Jackson Mandago is working hard to give Uasin Gishu residents the best healthcare services. However, it's not easy to find the best private hospital in Uasin Gishu County. This is the reason we have compiled a list of 15 best hospitals in Uasin Gishu county. In no particular order, below is the list of best hospitals in Uasin Gishu County;
It offers dental services, radiology, cardiology, maternity, intensive care unit, dialysis unit, major and minor surgeries.
Location: Makasembo Road, Eldoret Town
Contacts: +254 053 206 2000/ 2032293
2. Reale Hospital
It offers 24 hours of inpatient and outpatient services, maternity, radiology&imaging, pharmacy, nutrition, dialysis, ICU&HDU, specialist services, optics and dental services.
Location: Elgon View Estate, Nyerere Road
Contacts: +254 0705 671 057
3. Mediheal Hospital
It was established in 2002 with a high focus on quality, cost-effective healthcare services and to provide international standard medical care.
Location: Eldoret Doctor's Plaza and Along Nandi Road
Contacts: +254 723 578 895/ +254 735 864 169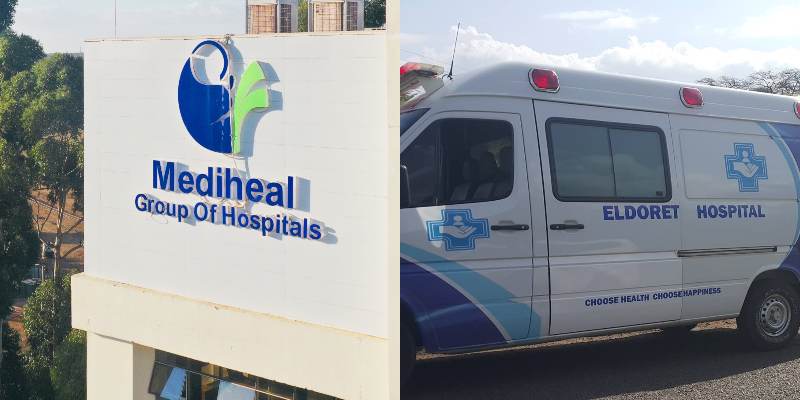 4. Elgon View Hospital
It has a bed capacity of 35 and offers 24 hours service to both inpatient and outpatient. Other services offered include neurology, gynaecology, paediatrics, cardiology, cosmetic surgery and diagnostic imaging.
Location: Along Eldoret-Kapsabet Road.
Contacts: +254 721 616 557
5. Racecourse Hospital
Location: Off Eldoret-Kapsabet Road
Contacts: 0724 554 477
6. Cedar Hospital
It offers a diverse array of medical services such as; laboratory services, pharmacy, dental services, diagnostic radiology and general medical consultations.
Location: Sosian Street, Eldoret Town
Contacts: +254 711 658 304
7. Tophill Hospital
Services offered include pharmacy, laboratory, general medicine, orthopaedics, gynaecology, cardiology, physiotherapy, eye care and general surgery.
Location: Elgon View Estate
Contacts: +254 708 121 212
8. St Luke's Orthopaedic And Trauma Hospital
It offers dental and optical services, general orthopaedic, kidney transplant, diagnostic services, radiology, neurosurgery, maternity and physiotherapy.
Contacts: 0707 6 11 625/ 0780 603 060
9. Lighthouse Healthcare
Services offered include; occupational therapy, nutrition therapy, laboratory, counselling, pharmacy, psychiatry, alcohol and substance abuse recovery.
Location: Elgon View Estate, Off Testimony School
Contacts: info@lighthousehealthcare.co.ke.
10. Alexandria Cancer Centre And Hospital
It is located along Lumumba Avenue, Opposite Moi University School Of Dentistry
Contacts: +254 780 443 974
11. St. Luke's Orthopaedic & Trauma Hospital
This is a middle-sized hospital but offers specialized services.
Address:
03705, Next To Temple Hindu, Eldoret
12. Eldoret Oncology Associates
This is a private managed clinic regulated by KMPDU. It is located in Kapsoya ward, Uasin Gishu County.
Address:
Kapsoya, Ainabkoi
Address:
Eldoret-Kisumu Road Opposite Shell Petrol Station, Eldoret
Address:
Sosian St, Eldoret
15. Plateau Mission Hospital
Address:
Unnamed Road Kaptagat Ainabkoi Uasin Gishu KE