Looking for the best private hospital in Muranga County can be hectic especially if you don't know if they exist. We have taken that pain away from you and compiled the list for you.
In no particular order, here is a list of 10 best private hospitals in Murang'a County.
1. Kiriaini Mission Hospital
This is a Catholic private hospital and one of the biggest in Mathioya Sub-county. It offers quality and affordable laboratory services, doctor consultation, pharmacy, obstetrics, pediatrics, and wellness programs.
Location: Mathioya
Contacts: 0723 704 530
2. Kimkan Hospital
Kimkan Hospital Muranga offers laboratory services, pharmacy, maternity, family planning, physiotherapy, imaging, dental care, gynecology, pediatrics, and X-ray services.
Location: Along Murang'a- Kangema Road, Murang'a Town
Contacts: 0727 158 856
3. Bliss Murang'a Medical Centre
Bliss Medical center Murang'a offers excellent Services, very efficient and you can easily tell that their medical staff have expertise. It gives doctors consultation, pharmacy, laboratory, optical and dental care, ultrasound, and X-ray services.
Location: Junction Flats, Behind Murang'a Law Courts, Murang'a Town
Contacts: +254 780 100 923
4. Kenol Hospital
Kenol hospital Muranga county boasts of high-level cleanliness with highly skilled medical staff, the doctors and nurses are so caring and so polite. It offers the best
service
since it has all cadres of health providers. It offers inpatient and outpatient medical services, laboratory diagnostics, pharmacy, X-ray, ambulance services, E.N.T, maternity, and dental services.
Location: Kenol Town, Along Thika-Sagana Highway
Contacts: 0722 999 513/ 0733 541 184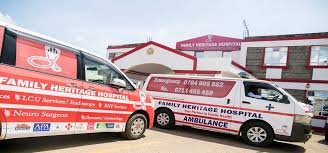 5. The Virgin Hospital
The Virgin Hospital Margua prides itself on offering affordable medical services such as pharmacy, laboratory, doctor consultation, maternity, ambulance services, and family planning. It is NHIF Approved meaning the patients can receive treatment using their card.
Location: Maragua
Contacts: 0712 730 013
6. Dr Sagwa Clinic
Dr. Sagwe clinic Murang'a is rather a small clinic but offers basic medical services.
Location: Mumathi Sacco Building, Manyeki Street, Murang'a Town
Contacts: 0722 451 660
7. AIC Githumu Mission Hospital
Githumu Mission Hospital Muranga is an AIC mission hospital offering holistic healthcare. They offer wide range of medical services such as emergency, laboratory, pharmaceutical and others.
Location: Kangari Town
Contacts: 0735 807 059
8. Murang'a Healthcare Services
It offers dental care, pharmacy, laboratory diagnostics, physiotherapy, optical care, ambulance services, family planning, antenatal and VCT services.
Location: Manyeki Road, Murang'a Town
Contacts: 0721 778 402
9. Annex Medical Centre
Annex Medical Centre Murang'a offers laboratory, pharmacy, consultation, and other medical services.
Location: Along Kiriaini- Murang'a Road
Contacts: 0733 399 778
You can find the list of all NHIF approved Hospitals in Murang'a County
10.Baraka Medical Clinic
Baraka Medical Clinic Kiharu (Muranga North) is a Level 2 Medical Clinic regulated by the Nursing Council of Kenya (Private Practice) in Township ward, Muranga County. It offers basic medical treatment and doctor consultation.
Location: Kiharu
11. GAICHANJIRU CATHOLIC HOSPITAL
This is a mission hospital in Muranga town offering world-class medical treatment at affordable costs. They boast of having state of the art facilities and medical equipment. It is NHIF approved and offers This 24-hour emergency medical care services.
12. Focus Medical And Diagnostic Center - Muranga
The hospital is offering dental check-up, emergency services, and it is NHIF approved as well as accepts other medical insurance such as Britam, APA, Fast Insurance, and others.
Location: MURANGA TOWN (former Fort Hall), Kenya
Contacts: +254 722 809642
13. Jilani Medical Clinic
Offers laboratory, pharmacy, and Consultation medical services.
Muranga District, Kenya | Hospital
14. Marie Stopes Kenya-Muranga
Dels with matters of reproductive health. They have excellent services and well-trained staff.
Address:
Mukuyu Road, Makuyu Market, Muranga
15.

Murang'a Health Care Services Limited
This is a private medical center in Muranga offering all outpatient services such as antenatal, counseling, consultation, Immunization, and laboratory services. They accept NHIF, AoN (TSC and NPS), first assurance.
Location: Murang'a healthcare services Ltd Murang'a, Kenya 542-00202 KNH Along Uhuru highway
16. Family heritage main hospital Muranga
This hospital offers high class, medicare in family health offering world-class holistic health care.
Address:
Kangema Murang'a Rd
Let us know if the information here was helpful. You can leave your comment below