Below is a list of health insurance companies in Kenya starting off with government-owned (NHIF) and other privately-owned Insurance companies. While you are seeking a health insurance company, do you background checks to ascertain the cover you will get and what it says about their extent of coverage?
Why do you need health insurance in Kenya
You need Health insurance for:
Outpatient care—the kind you get without being admitted to a hospital
Trips to the emergency room
Treatment in the hospital for inpatient care
Care before and after your baby is born
Mental health and substance use disorder services: This includes behavioral health treatment, counseling, and psychotherapy
Your prescription drug
Services and devices to help you recover if you are injured, or have a disability or chronic condition. This includes physical and occupational therapy, speech-language pathology, psychiatric rehabilitation, and more.
Your lab tests
1. Government Owned
National Hospital Insurance Fund
The National Hospital Insurance Fund (NHIF) is a Kenya government state corporation with a mandate to provide health insurance to Kenyans.NHIF was established in 1967 as a department within the ministry of health, by an Act of parliament. This has been reviewed over the years and it is now governed by ACT NO. 9 of 1998 – National Hospital Insurance Fund Act
The core business and mandate for NHIF is to provide accessible, affordable, sustainable and quality health insurance for all Kenyan citizens
Contact information
P.O BOX: 30443 – 00100, Nairobi, Kenya
Email: customercare@nhif.or.ke
Tel: 0800 720 601, (020) 2723255/56, (020) 2714793/94 , (020) 2722527.
Fax : (020) 2714806. Health Insurance Companies Kenya
2. Private Health insurance companies in Kenya
a. Jubilee Insurance
Head Office: Jubilee Insurance House, Wabera St.
P.O. Box 30376 00100 GPO, Nairobi, Kenya
Telephone: +254 (0) 20 328 1000
ISDN line: + 254 (0) 328 1000
Tel: 0709 901 000 / 0719 222 111
Fax: + 254 (0) 20 328 1150
info@jubileekenya.com Health Insurance Companies Kenya
b. Resolution Insurance
Head Office: Parkfield Place, Muthangari Drive, Off Waiyaki Way, Westlands
Tel: +254-20-2894 000, +254-709-990 000, +254-730-199 000
Email: info@resolution.co.ke
Address: P.O Box: 4469 – 00100, Nairobi Kenya Health Insurance Companies Kenya
c. Madison Insurance
Upper Hill Close,
P.O. Box 47382 – 00100, Nairobi
Tel: 020-2864 000, Cell: 0709 922 000,
Email: madison@madison.co.ke Health Insurance Companies Kenya
d. APA Insurance
Apollo Centre, ring road Parklands, Westlands
Tel:+254 (0) 20 364 1000
Email: info@apainsurance.org
e. Kenindia Assurance Company
Kenindia House, Loita Street, Nairobi, KENYA.
Phone: +254 (020) 3316099 / 2214439
Fax: +254 (020) 2218380
P.O. Box: 44372 – 00100 G.P.O. Nairobi
Email: kenindia@kenindia.com medical Insurance Companies Kenya
f. Pacis Insurance Company
Centenary House, 2nd Floor
Off Ring Road, Westlands,Nairobi Kenya
Telephone: +254 – 020- 4247000, +254 – 020 – 3504174, +254 – 020- 4192000
Fax: +254 – 020 – 4247000
Tel: +254 0730 677000, 0720 113122, 0733 777717, 0733 777293
g. UAP Insurance
UAP Old Mutual Tower, Upper Hill Road​
P.O. Box 43013 – 00100, Nairobi, Kenya
Tel: +254 20 2850 000
Mobile: +254 711 065 000
Tel: +254 711065100 / +254 711010100
E-mail: uapinsurance@uap-group.com
h. Britam Insurance Kenya
Britam Head Office
Mara/Ragati Road Junction, Upperhill
Nairobi, Nairobi
Ph: (254)703094000,
0202833000
Email: info@britam.com
i. Heritage Insurance Kenya
Mamlaka Road, P.O. Box 30390-00100, Nairobi.Kenya
Tel: 278 3000 / 0711 039 000 / 0734 101 000
j. GA insurance Limited
GA Insurance Ltd. 4th Fl. GA Insurance House,
Ralph Bunche Road,
P.O.Box 42166 – 00100,
Nairobi
Tel: 020-2711633/4/5
Tel: 0780224441/0
Tel: 0721677273
Tel: 0736711633 Health Insurance Companies Kenya
k. AIG Kenya Insurance Co.Ltd
Eden Square Complex,
Chiromo Road,
P.O. Box 49460, 00100 Nairobi,Kenya
Tel: 0723 600400/ 500
0735 338830/1
Email: aigkenya@aig.com
l. AAR insurance
Real Towers, Ground Floor, Hospital Road, Upper Hill
Tel: +254 020 2895000
Cell: +254 703 063 000
+254 730 633 000 Health Insurance Companies Kenya
m. CIC Group Insurance Kenya
CIC Plaza, Mara Road, Upperhill Nairobi, Kenya
Phone: (+254) 703 099 120 (020) 282 3000
n. Xplico Insurance Company
Park Place, 2nd Avenue, 5th Floor, Parklands, Off Limuru Road
P.O.Box 38106-00623, Nairobi, Kenya.
Telephone : 020 364 2000
Mobile Number: +254709 833000 (65) +254700 111999 +254736 800888
Email: info@xplicoinsurance.co.ke
o. Takaful Insurance of Africa
CIC Plaza, 3rd Floor
Mara Road, Upper Hill,
Tel: +254 (20) 2725134/5
p. Pioneer Assurance Company
Pioneer Assurance Ltd
Pioneer House,6th Floor,Moi Avenue.
P.O. Box 20333,Nairobi,Kenya
Tel: +254 20 7220000
Email: info@pioneerassurance.co.ke
Types Health insurance Plans in Kenya
Inpatient cover
Outpatient cover
Low-cost covers
Maternity cover
Medium and high-cost covers
Conditions excluded from Health Insurance Policies in Kenya
Your health insurance may have some exclusions and limitations. Plans vary so much that it's hard to say exactly what limits and exclusions might be in yours. To make sure you know the ins and outs of your policy, you need to read your summary plan description (SPD)) with all the policy rules and limits and bylaws and hereto fores and therewiths. You can get it from your insurer.
In general, though, health insurance plans can limit coverage for a pre-existing condition only for a certain period of time, usually no more than 12 months. Many plans have a three-month waiting period before all benefits kick in.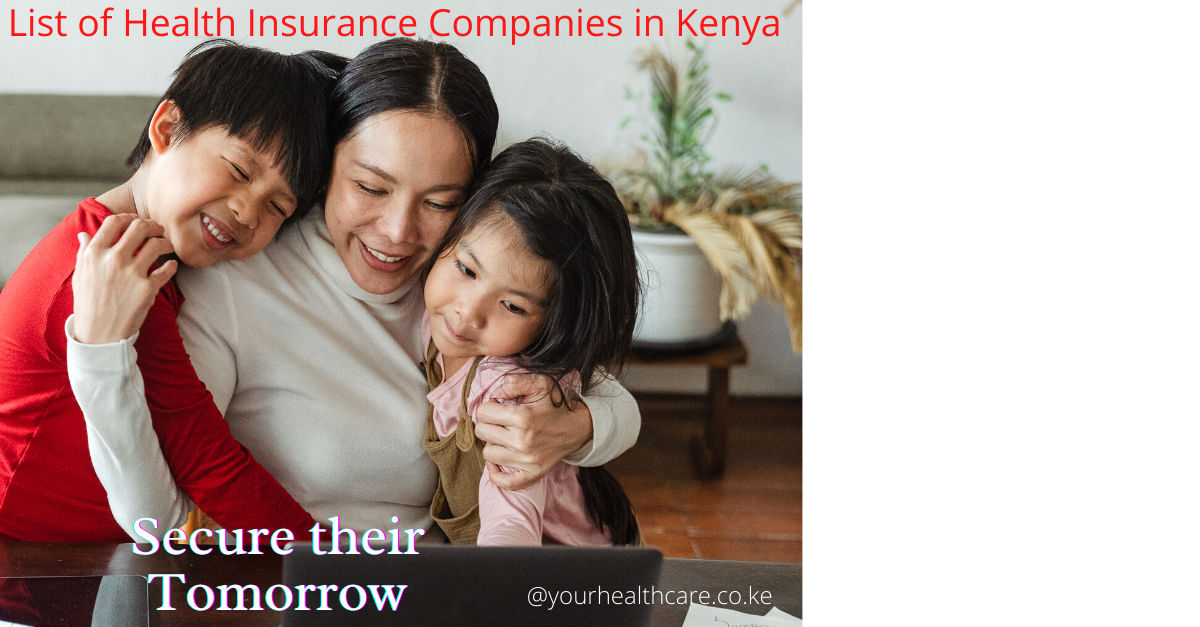 Health insurance in Kenya: Common Vocabulary
Insurance cover for an individual (patient) who receives health care services (such as surgery) on an outpatient basis, meaning they do not stay overnight in a hospital or inpatient facility
Health insurance plans require you to be formally admitted into a hospital for a stay for a service to be considered inpatient
is the amount of risk or liability that is covered for an individual or entity by way of insurance services
In life insurance, the beneficiary is the person or entity entitled to receive the claim amount and other benefits upon the death of the benefactor or on the maturity of the policy
a document detailing the terms and conditions of a contract of insurance.
A health insurance premium:
is a monthly fee paid to an insurance company or health plan to provide health coverage.
allow you to direct your own health care and visit almost any doctor or hospital you like. The insurance company then pays a set portion of your total charges. Indemnity plans are also referred to as "fee-for-service" plans.
A health insurance waiver :
is a document that when signed provides the option to opt-out of a health insurance plan offered to you by making a formal request.