In news that was aired by citizen tv, Mr. Maurice Obonyo is a sad man after 7 of his family members have been grounded by a disease. At 95 years, Mr. Maurice Obonyo who hails from Keumbu village in Kisii County is wondering what the world has put his family to a standstill. While other old men of his age are aging gracefully, Mr. Obonyo has challenges that have made him even forget about his grandchildren and meeting with his peers to have a word as other old men do.
His family members and himself cannot sleep at night that comes with the troubled with a mystery disease believed to be elephantiasis. The seven have had to endure the pain that comes with the disease amidst a lack of finances to seek treatment.
"We've sold all our land and properties to seek treatment. We have now been left hopeless and struggling even to get a meal because no one can work in my family." Obonyo says: with a sad face.
According to his daughter Stellah, the sick scream in pain every night. This denies them sleep.
"We've been to various hospitals but the sickness persists. We are now confused and helpless," she said.
In what sounds like a strange observation, the family claims that each of the 7 members started developing the symptoms while in class or standard seven.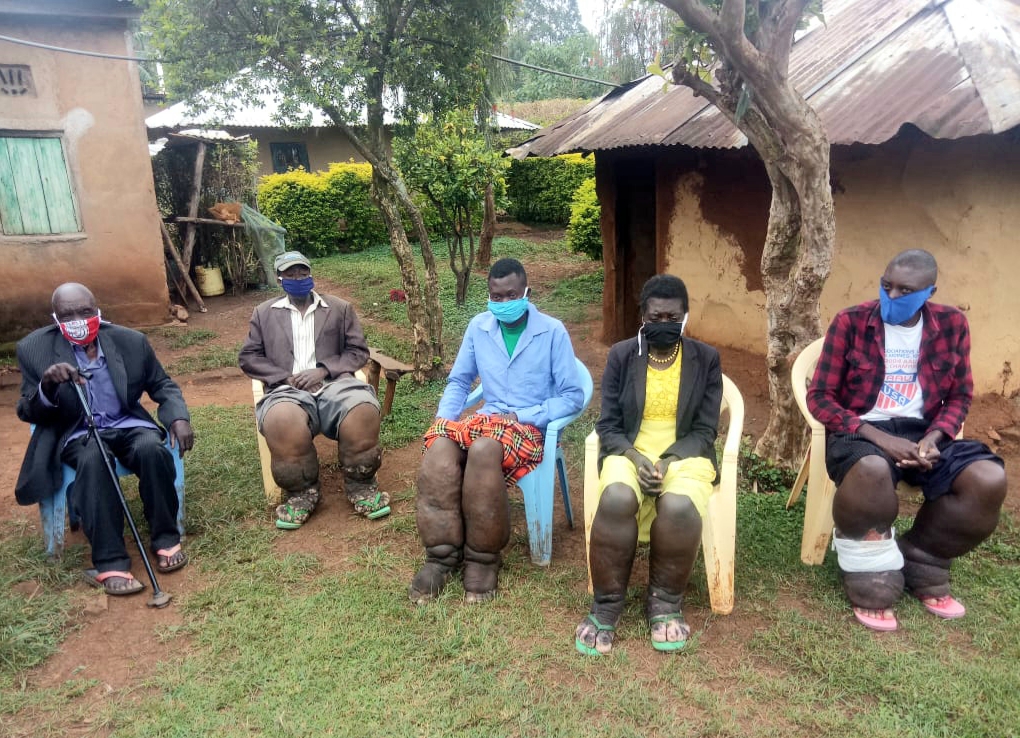 "The disease has plunged us into extreme poverty and we are struggling even as we are talking. We are only left with one option; to confine ourselves here at home and wait for maybe a good samaritan to come by and help us." Obonyo's wife, Moraa, said.
" Amidst the wait for someone to come to our rescue, our hope continues to Our hope continues to dip a day after another. We need help," Moraa said.
According to the World Health Organization (WHO), Lymphatic filariasis, commonly called elephantiasis is a neglected tropical disease.
"Infection is usually acquired in childhood, causing hidden damage to the lymphatic system," the WHO says.
The painful and profoundly disfiguring visible manifestations of the disease, lymphoedema, elephantiasis, and scrotal swelling occur later in life and can lead to permanent disability, according to information on the WHO website.
SWELLING
It occurs when filarial worms find their way into the lymph nodes. The worms stretch these nodes until lymph fluid can only flow downwards causing swelling of limbs and the scrotum in men.
An estimated 3,700,000 people living in Kwale, Tana Tiver, Kilifi, Mombasa and Lamu are at risk of infection with this disease.
The current treatment regimen consists of diethylcarbamazine and albendazole. The new treatment adds to ivermectin to the regimen, a combination that studies have shown reduces treatment time.
The Centre for Disease Control (CDC), in its information reviewed in March 2019, says that the disease affects over 120 million people in 72 countries throughout the tropics and the sub-tropics of Asia, Africa, the Western Pacific, and parts of the Caribbean and South America.
How does Elephantiasis Spread?
Lymphatic Filariasis, also known as Elephantiasis, is a parasitic infection caused by the Wuchereria bancrofti, Brugia malayi, and Brugia timori nematode worms transmitted to humans through the bite of infected Aedes, Culex, Anopheles, and Mansonia mosquitoes. The disease targets the body's lymphatic system. The infective microscopic larvae (microfilariae) develop in the vector mosquitoes and are injected into humans through a blood meal. In the human host, they reproduce and mature over a period of one year and live in the body for approximately 4 to 6 years. The larvae hatched in humans are ingested by feeding mosquitoes who pass the infection on to another person, continuing the infectious cycle. Lymphatic Filariasis is a Neglected Tropical Disease (NTD)*.
Symptoms of Elephantiasis
The majority of cases are asymptomatic – persons do not exhibit symptoms – although the worms can damage kidneys and lymph nodes over a long period of time without signs of illness. A severe infection, which may not show up for years, causes swelling in the genitals, breasts, arms and legs and may progress to lung disease. Treatment includes taking anthelmintic drugs.
Prevention
Use a repellent containing 20%-30% DEET or 20% Picaridin on exposed skin. Re-apply according to the manufacturer's directions.
Wear neutral-coloured (beige, light grey) clothing. If possible, wear long-sleeved, breathable garments.
If available, pre-soak or spray outer layer clothing and gear with permethrin.
Get rid of water containers around dwellings and ensure that door and window screens work properly.
Apply sunscreen first followed by the repellent (preferably 20 minutes later).
However, it should be noted that currently there is no preventive medication or vaccine against Lymphatic Filariasis.