Kisumu County hosts the biggest city in the western parts of Kenya. It prides is a rich cultural heritage, administrative, and Lake Victoria port services. Under the stewardship of Governor. Anyang Nyong'o who has worked hard to give his residents the best health care in the county. The county boasts of richness in hospitals, both private and public, which offer high specialization and quality healthcare.
1. Avenue Hospital
Avenue hospital in Kisumu offers both in-patient and out-patient services, special clinic services, radiology, major and minor surgeries, pharmacy, pediatrics, and general consultations.
It is located in Al Imran Plaza, Oginga Odinga Street
Contacts: +254 725 589 246
2. Meridian Medical Centre
Meridian Medical Centre Kisumu offers out-patient consultation, laboratory services, dispensing pharmacy, diagnostics radiology, and dental services. According to google reviews, the hospital offers good and quality healthcare services as well as has a lovely ambiance and friendly staff.
Location: Oginga Odinga Street
Contacts: 0709 572 046 / 020 2691548
3. Aga Khan Hospital
With a rich history since its establishment in 1952, the Agha Khan Hospital Kisumu boasts of 76-bed capacity while offering both medicine and specialist services to their patients. It also offers high tech diagnostic services.
Location: Otieno Oyoo Street, Kisumu Town
Contacts: +254 722 203 622/ +254 733 637 566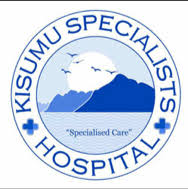 4. Kisumu Specialists Hospital
This is a 50-bed capacity hospital providing comprehensive medical and specialty healthcare services to the Lake basin region. It offers emergency in-patient and out-patient services, maternity, diagnostic imaging, surgery, pharmacy, endoscopy, physiotherapy, and pediatrics.
Location: RIAT Junction, Along Kisumu-Kakamega Highway
Contacts: +254 780 154 131
5. Milimani Maternity Hospital
It is open 24 hours and offers excellent medical and maternity services to expectant mothers and their babies. It offers both inpatient and outpatient services. It accepts NHIF cards and it is accredited under NHIF code 441-40100 KISUMU.
It is located opposite Mt Camel Nyalenda, along Ring Road.
Contacts: +254 057 202 1450
6. St Lukes Medical Centre
St. Lukes Medical Centre Kisumu has been offering quality medical care to its nearby and far residents since its inception in 2003. It prides itself in offering both inpatient and outpatient 24 hours of medical services. NHIF accredited number 4195-40100.
Location: Jomo Kenyatta Highway, Kisumu Town
Contacts: 0733 709 279
7. St Jairus Hospital
With an NHIF accredited number of 4902-40103, St Jairus hospital Kisumu offers both out-patient/in-patient, maternity, and surgical services.
Location: Off Kisumu-Busia Road, Opposite Kisumu International Airport
Contacts: 0716 258 129
9. Star Hospital
It offers general in-patient and out-patient medical services. Also offers treatment for the children. It is NHIF approved under the code 4516-40100 KISUMU.
Location: Ramogi Road Junction, Kisumu Town
Contact: 0702 650048
10. Jalaram Nursing Home
Working closely with the local and surrounding communities, the hospital offers medical care to the orphans and grandparents under the support of Wakonyu.
Location: about 2kms from Kisumu city at Patels Flats, Next to Shell Petrol Station, Along Kisumu-Kakamega Highway
Contacts: 0722 731 513 / 0775 044980
11. Acacia Medical Centre Kisumu
It is a fully-fledged hospital offering specialized medical diagnostic in hematology and other services. Their services are fast because they value their clientele
Located in:
Mega City Mall
Address:
Kondele Kisumu - Nairobi Rd Nakumatt megacity
12. Port Florence Hospital
Approved by NHIF under the code 3417-40100, the hospital offers both general and private ward services. They also have excellent laboratory and radiological examination services.
Address:
West, Kisumu, Central Kisumu, Kisumu, Kisumu
13. Interfelk Medical Centre
This is a level 2 clinic Located in Nyalenda Western, Off Ring Road, Ring Rd, Kisumu, Kenya | Hospital offering quality medical care under the watch of KMPDU.
Phone number 0706 594546
14. Masaba Hospital Kisumu
This hospital offers quality healthcare through both inpatient and outpatient services. They have ambulance services and dedicated medical staff.
Located:
Along Kisumu - Busia Road, West Kisumu Kisumu West
15. Bliss Medical Centre Kisumu
Bliss Medical Centre Kisumu offers very excellence in service delivery with qualified staff. Their consultants are always present once booked and customers feel at least appreciated
Address:
Almiran Plaza, Oginga Odinga Rd, street